How PortMiami Became South Florida's Economic Engine
Miami offers a strong example of how leadership and innovation can deliver the benefits of America's Economic Expressway. The city's port — an essential conduit of international trade — once emptied out onto clogged streets and overused infrastructure. State and city officials decided to do something, pioneering an innovative approach to solve the problem: Go deep. A 21st-century tunnel was built to welcome the port's influx of goods. Since opening to traffic in 2014, the tunnel has unclogged city streets and helped unlock the port's potential to handle a new era of American manufacturing and global trade.
A Single Road for a Hemisphere
Most American manufacturers who do business in Latin America depend on PortMiami. Once dubbed the Cargo Gateway of the Americas, PortMiami is now a global trading hub and the ninth-largest U.S. port. According to port officials, it is the city's second-largest economic engine, supporting more than 200,000 jobs and handling about 8 million tons of cargo each year.
Carrying all that cargo to and from the port requires trucks — lots of them. For years, about 4,000 big rigs each weekday inched along a single bridge connecting the port to downtown Miami. From there, the trucks navigated crowded city streets to reach Interstates 95 and 395 as they set off across Florida and the southeastern U.S.
This overburdened network of roads came with a litany of challenges. Beyond dangerous and frustrating congestion, funneling freight into downtown Miami meant slower shipping times and added costs. These slowdowns and delays stunted PortMiami's ability to grow with the global economy. As state and city officials watched container ships pull into competing U.S. ports, they found a solution to their congestion problems under the waters of Biscayne Bay.
Clearing Hurdles, Digging Deep
The idea of a dedicated tunnel to serve PortMiami was first discussed in the 1980s. Instead of sending trucks through downtown, proponents championed a multi-lane tunnel that would carry trucks 120 feet below sea level to directly connect the port to Interstate 395. City streets would be returned to pedestrians and daily traffic, they argued, while freight would move from port docks to final destinations faster than ever.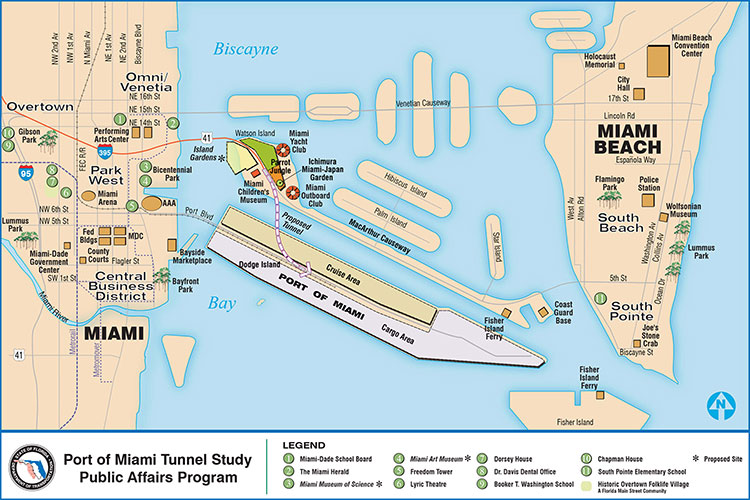 In 2007, the city and state finalized a partnership deal with Miami Access Tunnel, LLC (MAT) to finance, design and build the tunnel. MAT will also operate the tunnel until 2044. Between now and then, the state and city will pay MAT in installments before assuming full control and management of the PortMiami tunnel.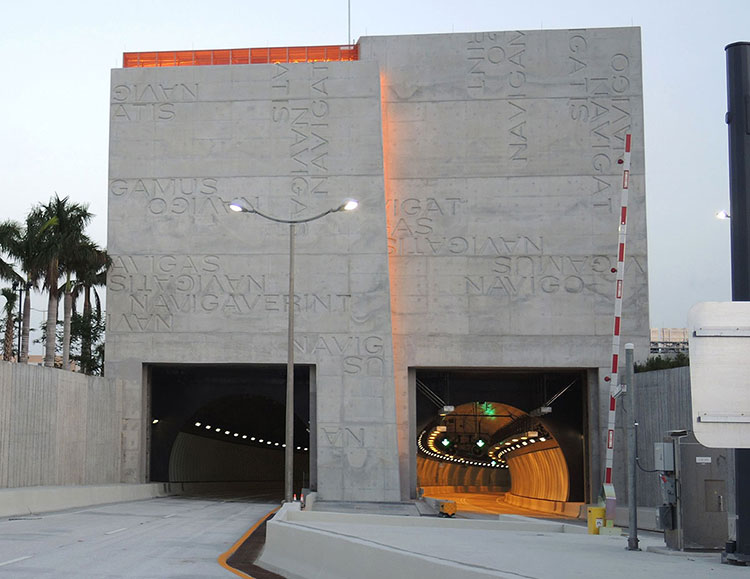 Saving Time, Growing the Economy
The PortMiami Tunnel opened to traffic on August 3, 2014 — just four years after breaking ground. Thousands of trucks now seamlessly use the 4,200-feet, four-lane tunnel to travel between the region's interstates and PortMiami. Along with improvements to adjacent roadways, the tunnel has reduced the average round trip for a truck by 40 minutes each way. In downtown Miami, reduced freight traffic has helped encourage development and revitalization projects such as the 10-block mixed use Miami Worldcenter and the arrival of Brightline — passenger rail service connecting downtown Miami with Florida, West Palm Beach and Orlando.
Finally, together with a recent $2 billion upgrade to port facilities, the PortMiami tunnel allows the city to welcome the world's largest container ships. These massive vessels, which can carry as many as 13,000 shipping containers at once, represent a new era of global trade and a golden opportunity for Miami to become a major player in the 21st century economy.
The growth and opportunity seen in Miami today is only possible because of visionary planning from leaders decades prior. Their bold effort to reimagine the city's transportation infrastructure set Miami on a new economic trajectory. The decision to go big with an ambitious new tunnel is paying off with new jobs, sustained economic growth and dividends yet to be realized for many years to come. This is the same type of innovation and ambition that will be necessary to deliver the next big thing: America's Economic Expressway.